Enjoy breakfast in #oneelevenresorts way! Please choose your breakfast menu by clicking the button and filling out the form below. Breakfast time start at 7.00 am – 11.00 am.
Please dial "0" for more information or chat with our Receptionist on WhatsApp by clicking the button below.
Should you have any special requests, please do not hesitate to ask and we will do our utmost to provide.
Cereal Muesli | Mango Yogurt | Daily Seasonal Fresh Fruits | Toast Bread, Plain Croissant and Danish Chocolate | Nespresso Coffee | Tea Selection
A Selection of:
Egg benedict on English Muffin (Sliced Beef pepperoni, Sauteed Spinach, Hollandaise sauce served with Rucola Salad)
Chicken Fried Rice (With freshly sliced Tomato, Cucumber, and Crispy Shallots)
Burritos (Red Sour Rice, Lettuce with Tortillas, Baked Black Beans, and Mozzarella)
Pancakes (With Caramelized Banana, Strawberry, Sprinkle Icing Sugar, and Mint Leaves)
Freshly Squeezed Kintamani Tangerine Juice
Fresh Dragon Fruit Juice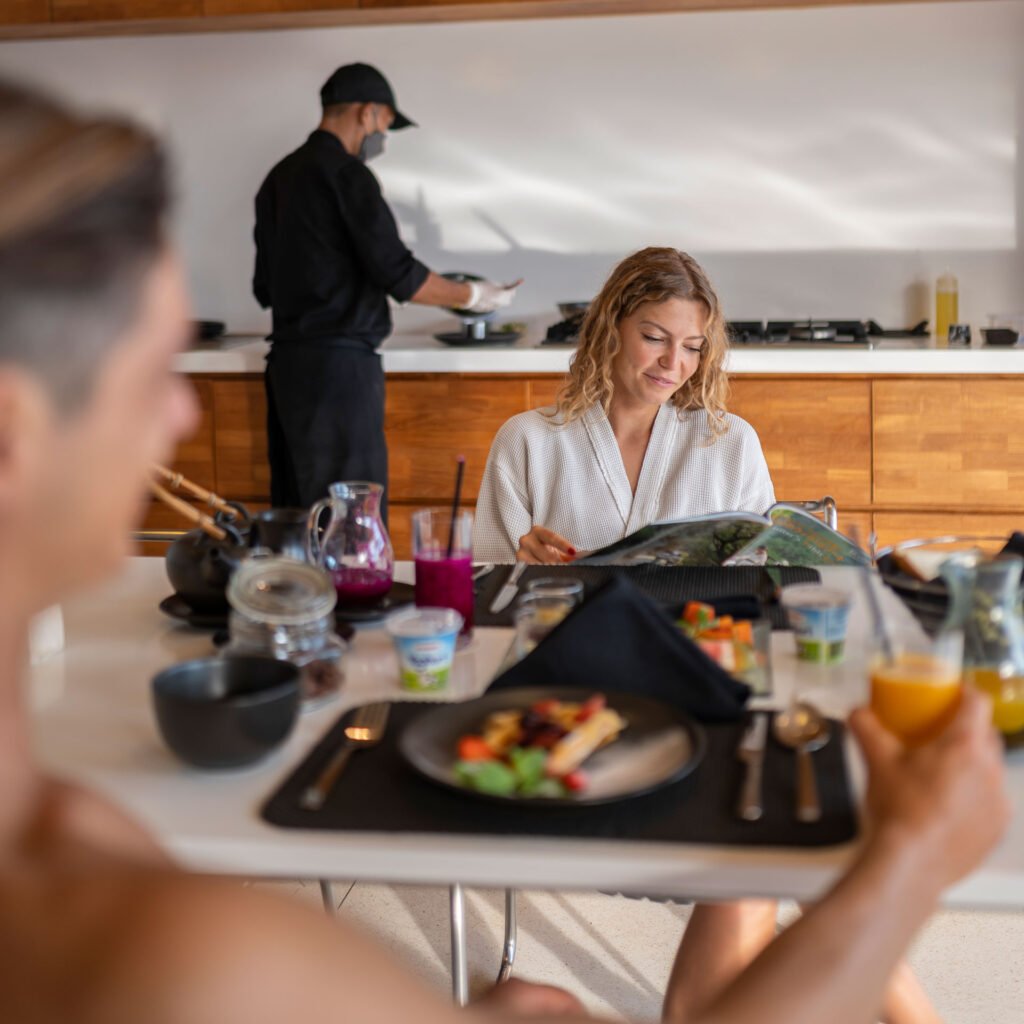 Cereal Corn Flakes | Strawberry Yogurt | Daily Seasonal Fresh Fruits | Toast Bread, Plain Croissant and Danish Chocolate | Nespresso Coffee | Tea Selection
A Selection of: 
Mixed Omelet (Sausages, Bacon, Mushroom and Grilled Tomatoes)
Seafood Mie Goreng (Mixed Seafood, Sliced Tomato, Cucumber, Fried Egg and Fried Shallot
Minute Steak (Sauteed Potato, Sunny Egg, Shallots Gravy)
French Toast (Brioche Bread stuffed with Fruits and Chocolate Sauce)
Watermelon Juice
Fresh Papaya Juice
Cereal Coco Crunch | Palin Yoghurt | Daily Seasonal Fresh Fruits | Toast Bread, Plain Croissant and Danish Chocolate | Nespresso Coffee | Tea Selection
A selection of:
Scrambled Egg (with Sausages, Bacon, Baked beans, and Sautéed Vegetables)
Monsieur Breakfast Sandwich (with Cream Sauce, Cheese, Tomato Slice, and Sliced Beef Pastrami)
Seafood Kwetiau Goreng (With Dice Mix Seafood, Bean Sprouts, Slice Tomato, Cucumber, and Crispy Shallots)
Waffles (with Blueberry Sauce, Icing Sugar, and Mint Leaves)
Freshly Squeezed Kintamani Tangerine Juice
Fresh Dragon Fruit Juice
Cereal Coco Crunch | Plain Yoghurt | Daily Seasonal Fresh Fruits | Toast Bread, Plain Croissant, and Danish Chocolate | Nespresso Coffee | Tea Selection
A selection of:
Sunny Side-up (with Sausages, Bacon, Mushroom, and Grilled Tomatoes)
Chicken Fried Rice (with Freshly Slice Tomato, Cucumber, and Crispy Shallots)
French Toast (with Brioche Bread Stuffed with Fruits and Chocolate Sauce)
Bubur Ayam (with Vermicelli, Grilled Chicken, and Crispy Shallots)
Fresh Pineapple Juice
Fresh Guava Juice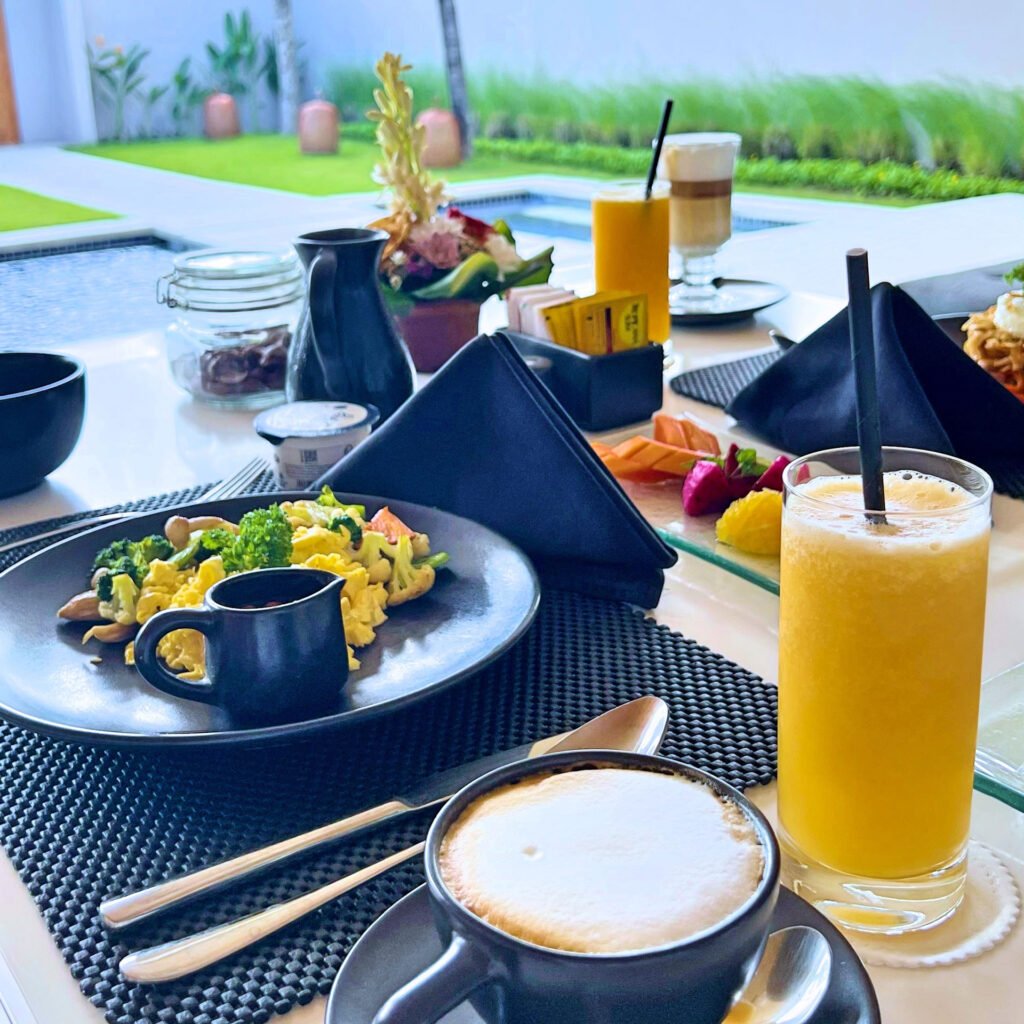 Gluten-Free Pastry | Daily Seasonal Fresh Fruits | Nespresso Coffee | Tea Selection
A selection of:
Poached Egg and Sautéed Asparagus on Toast
Sautéed Vegetable Surrounded Mash Potato
Tomato Bruschetta with Green Salad
Mix Fruit Salad
Fresh Coconut
Healthy Green Juice
Daily Fresh Juice Selection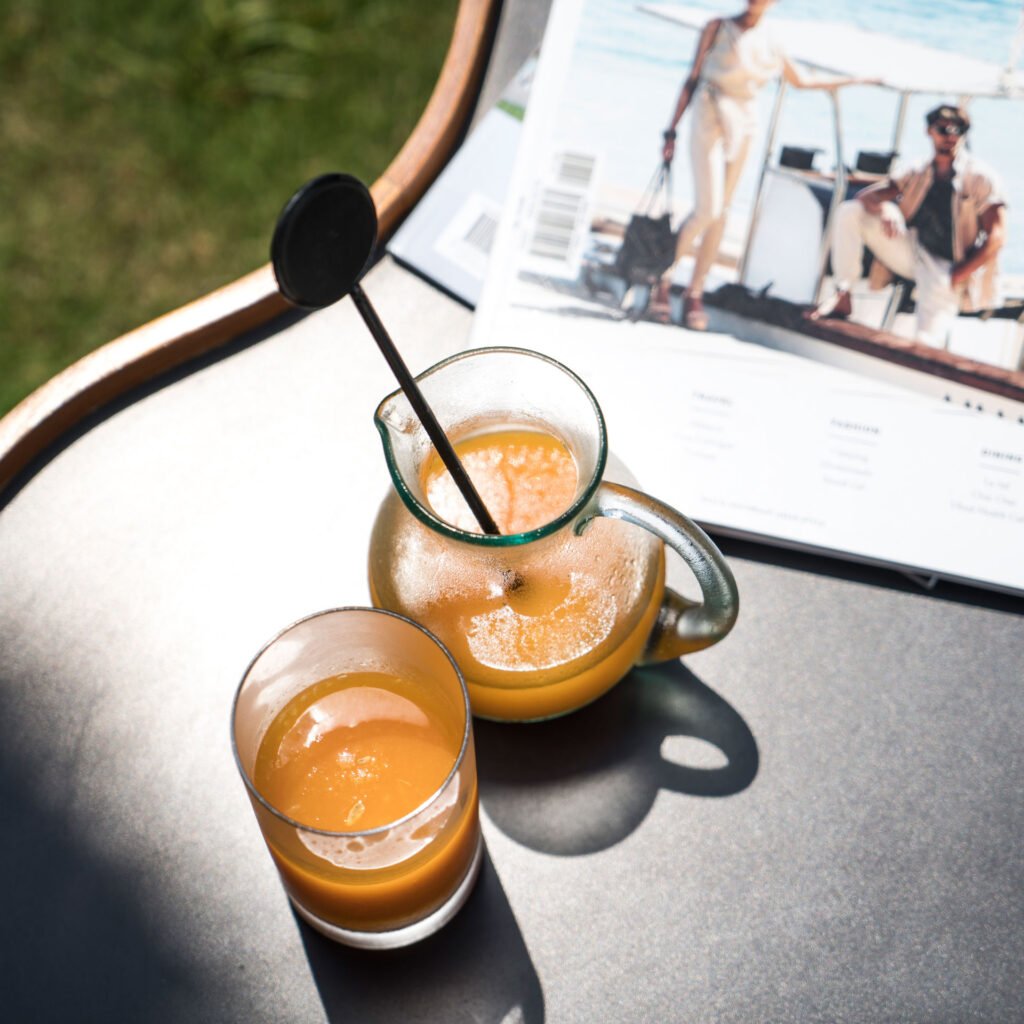 Cereal Corn Flakes with Almond/Coconut/Soya Milk | Daily Seasonal Fresh Fruits | Nespresso Coffee | Tea Selection
A selection of:
Scrambled Tofu with Sautéed Spinach
Vegetarian Wrap with Rucola Salad
Mushroom and Vegetable Sandwich
Stir-fried Vegetable Noodle
Fresh Coconut
Pink Panther